Cube Hydraulic Lift
Why should you go for a Hydraulic elevator? What are the Pros and Cons of going for a Hydraulic lift?


ELEVATOR INSTALLATION SERVICES
iNSTALLATION AND SUPPLY AVAILABLE
IN ALL CITIES OF INDIA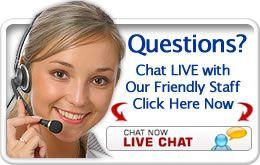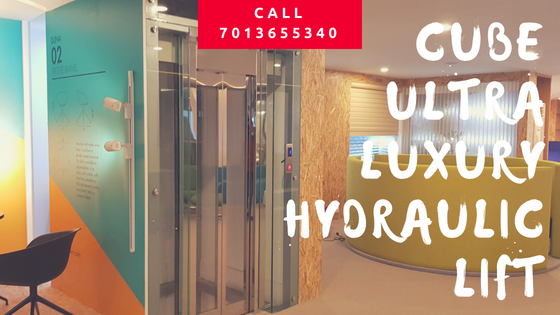 Pros of going for a Hydraulic Elevator
Hydraulic Lifts are completely customized for any size.
These are Pitless lifts.
These lifts can be installed in a self-supported Iron structure.
These Home Elevators are wall mounted.
Entrance and exit can be provided on any three sides.
As support will be taken only on one side, we can provide small capsule lift.
Doesn't consume power while coming down.
Machine can be kept outside home and can easily be accessed by anyone, to bring the cabin to ground level even in case of complete technical failure.
Luxurious glass lift models are possible which are worth spending money.
High quality Italian imported equipment with Indian manufactured customized cabin designs.
Automatic, Semi Automatic openable and Manual door options with full safety are possible.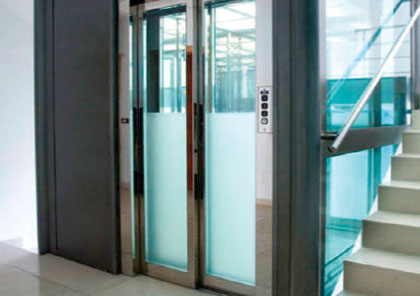 Cons / Challenges of choosing a Hydraulic Elevator
Can be installed only up to a maximum of Ground + 4 floors.
Floor level will change with heavy usage.
For optimal usage, it should not be used more than 10 times per hour.
When compared with standard electrical lifts, hydraulic lifts are expensive.
Frequently asked questions
Before choosing a Hydraulic elevator for your home or a commercial complex you must go through with every question which is mentioned below.
What is a Hydraulic Lift?
Hydraulic Lift consists of an Oil Tank, which is known as a PowerPack which will have Valves, Oil, Pump inside oil connected through a Hose Pipe to the cylinder. Inside the Cylinder the piston will move up and down, which is connected to the cabin by a rope.
How does a Hydraulic Lift work?
From the oil tank, oil will be pumped into the cylinder and so the piston will move up and down. The piston will be connected to the cabin and for every one foot of the piston travel, the cabin will move two feet. So we avoid the pit and extra space/headroom above the last landing.
How much power does a this Lift consume?
Power consumption will depend on the load capacity. However, hydraulic home lifts don't consume power while coming down, as they use gravity to get down. Oil will flow back to the power pack from the cylinder while lift moves down. When the elevator is not in use, it still consumes about 24 watts per hour and so a minimum bill of Rs 200 per month would come.
For a 2-4 Passenger elevator for Ground+1 floor and Ground +2 floors, you will have a 5500-watt machine. If it's for a Ground +3 floors then you would have a 7500 watt machine and if it is for a glass lift or for a 6 passenger lift then the machine will be 9500 watt machine.
When should you choose a Hydraulic lift?
If you do not want to go for a pit, head room and machine room above the lift, then the right choice is Hydraulic. Also if your staircase is located inside the house then go for Hydraulic lift as machine will be outside the house, it is easy to access in case of emergency.
Is pit required in a Hydraulic Lift?
If you do not wish to have a pit for your hydraulic lift, then you would go for an 8-inch step in front of the elevator. Or else you much at least go for an 8 inches pit. The reason behind this is due to the bottom of the cabin should be strong enough to carry the load.
What is the cost of a Hydraulic Home Lift?
In Cube Hydraulic lifts we give utmost priority to the long life of the elevator and so give importance to the quality. We have Indian as well as Italian models. Total price depends on several factors like type of doors, whether we are installing the lift in civil lift shaft or a self-supported shaft.
Trying to find Best Elevator Supplier?
Get an Instant Call from an Elevator Expert